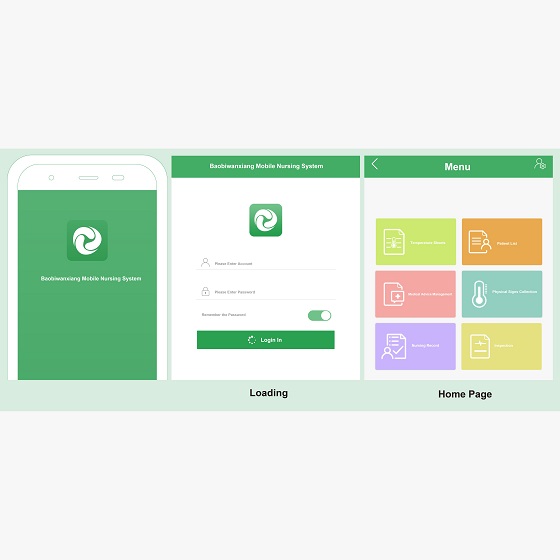 BAOBIWANXIANG Mobile Nursing System V3.0
Solutions

Product details
Specification Parameters
Product News
BAOBIWANXIANG mobile care system solution to ensure medical care safety
Combines wireless network, barcode recognition, RFID identification and PDA intelligent mobile data terminal.
Seamlessly connect with hospital information management system and nursing records.
Extend the nurse workstation to the patient's bed to ensure the quality of care and improve work efficiency.
Advantage
* Patient identity smart check
Through the scanning of the patient's identity, drugs and other bar code scanning and RFID identification, the electronic identity between the patient's identity and the drug is realized, and the medical errors caused by the artificial check are avoided.
* Improve nurses' work efficiency and reduce work intensity
Through the mobile nursing workstation, the physical information collection changes the repeated work mode of the manual recording and then copying, directly enters the data through the PDA in the field, and uploads it to the nursing medical record system in real time, automatically generates the body temperature sheet, reduces the workload, and also reduces the workload. Avoid errors that may be caused by the transfer process.
* Track the life cycle of medical orders and realize medical closed-loop management
The mobile care workstation extends the existing nurse workstation to the patient's bedside. The performer scans the patient's wristband barcode and the drug barcode to complete the medical order confirmation, and accurately records the actual executor and execution time.
* Statistics on nursing workload, providing basis for nurse performance evaluation
The mobile nurse workstation records the execution time and execution time of each medical order, and provides a reliable reference for performance evaluation and responsibility tracking.
The system standard function module
Patient navigation: view the patient's basic information in real time, scan the wristband or drop-down box to select the positioning method
Signs entry: Record physical signs, including patient temperature, stool frequency, blood pressure, urine output, postoperative days, drug allergy, etc.
Medical order implementation: support the implementation of oral medicine, treatment, examination, inspection, nursing and other medical categories. Display the actual implementation of the doctor's orders, remind the nurses of the remaining workload, filter the screening of medical orders, and execute the treatment orders in batches. Allow the patient to scan the wristband to perform the doctor's orders.
Care record: support for entry and exit function
Medical order enquiry: check the patient's medical order implementation according to the doctor's execution status (multiple choice)
Physician query: query the patient's physical record entry details
Body temperature list: query patient trend chart
Basic information: display patient name, bed number, farewell, time of admission, attending doctor, supervisor, contact information, level of care, etc.
Expenses: Inquire about the patient's personal expenses; check the patient's personal daily list; check the department's patient's fee arrears
Blood glucose monitoring: Enter blood glucose content according to different time periods
Inspection and inspection: check inspection and inspection report details
Baobiwanxiang

Leading provider of the Internet of Things industry in China,providing personnel and items identification technology, products and total solutions.It's a high-tech enterprise integrating R&D, production, sales and technical services.Totally obtain 217 patents.

Service Hotline

400-880-6887

400-880-6997

Consult Now

Hot Selling Products