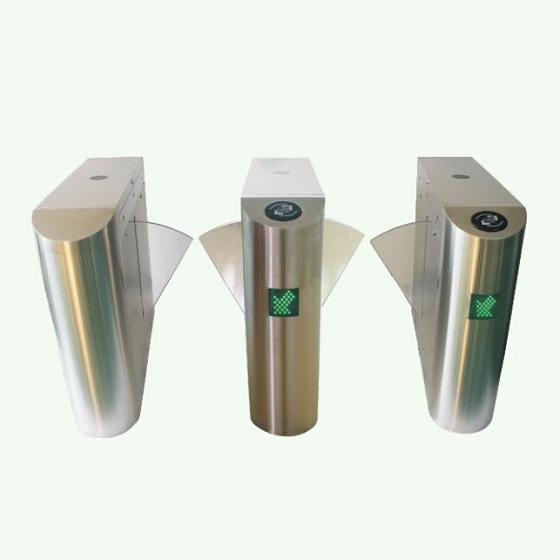 BAOBIWANXIANG Economic Access Control Wing Gate
Solutions

Product details
Specification Parameters
Product News
I.Model
Bridge Circular Arc Wing Gate(Single Core) B-YZ01A
Bridge Circular Arc Wing Gate(Double Core)B-YZ01B
II.Product Features
Highlight LED blinking direction indication
Automatic Homing Function:Gates automatically return to the hindered zero position after the pass process.
Power-off Function:When the power is cut off,the system will automatically open the gate,which is convenient for evacuating people,meet the requirements of fire protection
Anti-illegal Intrusion Function: When the card is invalid, no card swiping or no traffic is allowed, the forced entry channel will be regarded as illegal intrusion, the system will automatically alarm and close the wing gate.
Anti-backward Function: Pedestrians enter the pass from the opposite direction before the end of the pass process will be treated as a reverse intrusion and the system will automatically alarm and close the wing gate.
Anti-tailing Function: Photoelectric switch detects pedestrian traffic conditions and detects trailing phenomenon (the person behind sticks to the person in front, and try to pass without swiping card ). The system will automatically alarm and close the gate.
Intelligent Linkage Alarm: Including illegal intrusion, anti-reverse traffic and other alarms,can be equip with other alarm monitoring equipment, in the form of sound and light. If requires a flash alarm, it needs to add a illuminated alarm to the housing.(Illuminated alarm can be customized)
Infrared Anti-pinch: Install multiple pairs of photoelectric switches in the area close to the movement of the gate (anti-pinch area). Once the person or object in the anti-pinch area is detected, the swing arm keep open until the person or object leaves the anti-pinch area.
III.Applications
Hospitals, scenic spots government sectors customs inspections financial institutions office buildings hotels scientific research center industries amusement park, entertainment places.
V.Customized Functionality
Counting and alarm functions
Housing material can be customized,minimum distance is 0.8m,wing door material is transparent acrylic plate,color can be customized
Housing material is mainly made of 304 stainless steel with a thickness of 1.26mm. Other materials can also be customized
Remote control switch
Dynamic face recognition all-in-one machine
Able to add the emergency escape function, use remote control switch to open the gate under emergency situation
Fingerprint identification for attendance machine
QR code for pass identification
Electric Parameter
Product Size: 1200*280*990mm(Wing Gate)
Power Supply Voltage: 220VAC±10%/15%, 50HZ±4%
Drive Motor: DC motor DC24V
Drive Mode: Brush motor mode Working
Temperature: -25 ° C ~ +75 ° C
Pass Rate: 10--60 people/minute
Open/Close Time: ≈ 0.5-0.8 seconds
Technical Indicators: Anti-trailing/Anti-pinch
Channel Width: 500-550mm
Control Signal: Switch signal
Average Number of Failures-free: 3 million times
Relative Temperature: 5%-90% non-condensing
Waterproof and Dustproof Level: Above IP32 ;
Wing door Length: 230mm
Baobiwanxiang

Leading provider of the Internet of Things industry in China,providing personnel and items identification technology, products and total solutions.It's a high-tech enterprise integrating R&D, production, sales and technical services.Totally obtain 217 patents.

Service Hotline

400-880-6887

400-880-6997

Consult Now

Hot Selling Products